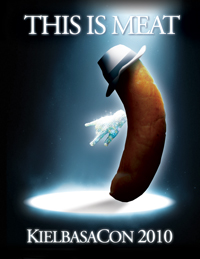 Everyone loves KielbasaCon, and some of them even write in to tell us how excited they are!
So far the best comments:
We are ready to rock out with our meat out!
MMMMmmmmmmmmm... sausage.......
Nice sausage.
Is that a turd in a fedora? Is this TurdCon? I'm in for TurdCon 10.
MEAT-PLAW!
We're looking forward to a great KBX!